As part of Family Favorites Classic Series, the 1984 original movie "The Karate Kid" will be shown on Sunday at the Tampa Theatre.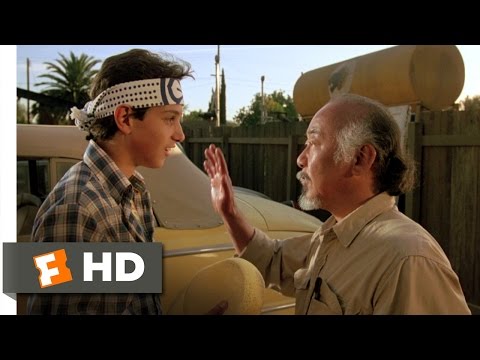 When the new kid in town, Daniel (Ralph Macchio) takes an interest in Ali (Elizabeth Shue), her ex-boyfriend (William Zabka) and his friends start harassing Daniel. But Mr. Miyagi (Noriyuki "Pat" Morita), an elderly Japanese handyman, comes to his rescue and takes on the bullies by himself using karate. Daniel begs to learn this ancient martial art, and Miyagi begins the boy's training, teaching him that there is more to karate than fighting. Do you remember the classic line "Wax on, wax off"? The start time of the movie is 3pm, but doors open at 2pm. Tickets are $10 for the General Public. There is a military discount of $1 per ticket. Chosen by LIFE magazine as one of "America's 21 Wonders," Tampa Theatre is one of America's best-preserved examples of grand movie palace architecture. The Theatre hosts 650 events annually including first run and classic films, concerts by touring artists, educational programs, summer camps, and community celebrations. Built in 1926 as one of America's most elaborate "movie palaces", the Tampa Theatre today is a historical treasure of Tampa. Located in downtown Tampa, the Theatre is easily accessible from I-275 and I-4. Designed by famed theatre architect John Eberson, the Tampa is a superior example of the "atmospheric" style of theatre design. Inside the Tampa, audiences are transported to a lavish, romantic Mediterranean courtyard replete with old world statuary, flowers, and gargoyles. Over it all is a night time sky replete with twinkling stars and floating clouds. Tampa Theatre was named to the National Register of Historic Places in 1978 and is a member of the League of Historic American Theatres. There is on-street parking nearby and parking lots within walking distance. Just across the street from the Marriott Courtyard at Cass and N. Florida is a self-service parking lot that charges $5 for parking before 6pm and $3 after 6pm. Tampa Theatre is about 30 minutes away no matter if you live in Brandon, FishHawk Ranch, New Tampa, St. Pete or Westchase!
MacDill Happenings is brought to you by Militarybyowner Advertising, Inc., your resource for MacDill AFB Off-Base Housing!